Bringing people together is all about the experience, and the food. Real Organic Chef is more than amazing meal delivery, we're your organic catering partner too! From an intimate dinner for 10 to a spectacular gathering of 100 or more, R.O.C. can help.

Contact Real Organic Chef

®

at (702) 762-3278 to start customizing your menu today.
Real Food for a Better Life.
Use our Prefixed Menu Options or
Create your own menu


Create your own 4 to 5 course meal from items in our prefixed menu. Prices range from $85 to $175 per person, depending on selection.










Hot Organic Appetizers







Mini Maryland crab cakes with sweet chili aoli
Blue Point Oysters on a half shell w/cucumber mignonette
Brushetta with Roland Nicoise olives from France,
Blue claw crab w/ avocado in mini puff pastries

Fresh Organic Salads

Salad Nicoise with pacific wild caught salmon
Organic bib lettuce heirloom tomato and mozzarella salad
Classic Champagne Caesar salad in a won ton bowl
R.O.C.'s own wedge salad w/ roasted portabello mushroomsOrganic Gourmet Entree'sOrganic Grass fed Filet Mignon - with Port Wine Reduction accompanied with blue cheese & chive compound butter served with miatake mushroom, asparagus, machango potato balls

Seared Muscovy Duck Breast

with Red Wine-Vanilla Sauce

-

served with braised greens and parsnip mash Fresh Hawaiian Yellow Fin Tuna, blackened served atop Okinawan mash potatoes cascading with our special mango and papaya salsa

Truffle Smoked Gouda Stuffed free range Chicken Breast w/ bells viva sun dried -

served with sautéed baby spinach and sweet potatoes braised with rosemary & cream

Vegetarian Entrees

Organic Roasted Eggplant Lasagna. Linguini - with roasted portabello walnut sauce. Angel hair pasta primavera - with roasted vegetables.

Organic and other Desserts

Crepes SuzetteMini Strawberry Short cakeBanana's Fosters, baklava, Tiramisu, Chocolate Mouse, Brownies, Serious gourmet cupcakesCheesecake - selections include: Strawberry, Blueberry, Hazelnut, Chocolate.

Per person cost is from $85 to $175
gratuity will be added to all events
Powered by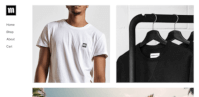 Create your own unique website with customizable templates.

LV based business specializing in, in-home and delivery organic meal service, Time share weekly meal service, Organic Nutrition. Organic Personal Chef service. Master Chef focuses on the importance of conscious eating and cultivating an appreciation for nourishing the body. All meals are 100% organic and of the highest quality. Our cuisines range from Traditional American, Chinese, Italian, and Spanish to name a few. Remember Real Organic Chef Real Food For A Better Life. 702-762-3278